Gujarat Municipal Election Results 2021 Live Updates : BJP wins big in Vadodara, Rajkot, Jamnagar
Gujarat Municipal Election Results 2021 Live Updates : BJP wins big in Vadodara, Rajkot, Jamnagar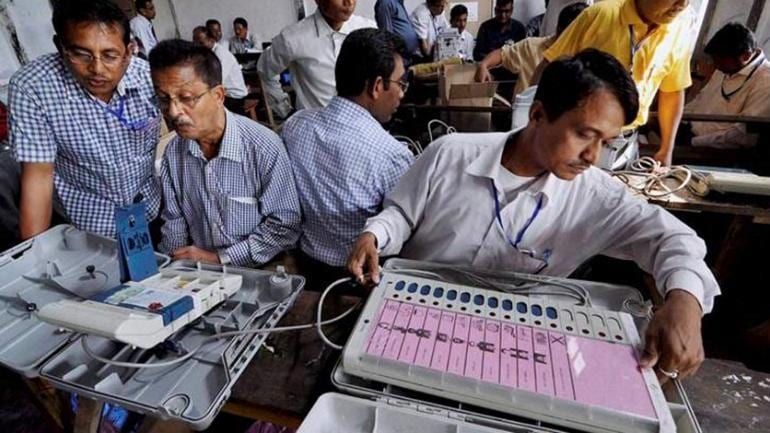 Gujarat Municipal Election Results 2021 Live Updates: Counting of votes for 575 seats in six municipal corporations — Ahmedabad, Surat, Vadodara, Rajkot, Bhavnagar and Jamnagar — of Gujarat is underway amid heavy security and strict COVID-19 protocols.
As per the latest data, BJP has won 11 seats in Bhavnagar, 16 in Rajkot, and 17 in Vadodara. In Jamnagar, the BJP has won 18 seats so far while Congress and BSP have won three each. Arvind Kejriwal's Aam Aadmi Party (AAP) which is contesting the polls for the first time has hindered Congress' growth in Rajkot.
The State Election Commission (SEC) has said an average 46.08 per cent turnout was registered during voting which was held between 7 am and 6 pm on Sunday. Ahmedabad recorded the lowest turnout of 42.51 per cent, while Jamnagar saw the highest turnout of 53.38 per cent, followed by 50.72 per cent in Rajkot, 49.46 per cent in Bhavnagar, 47.84 per cent in Vadodara and 47.14 per cent in Surat.
All these bodies are currently governed by the BJP. While the BJP has an upper hand in elections to urban local bodies, this time, several senior and multiple-term corporators were denied tickets, leading to disquiet in the party. With Assembly elections due next year, these elections will provide an indicator of the voters' mood.
Voting for general elections to six municipal corporations in the state – Ahmedabad, Surat, Vadodara, Rajkot, Bhavnagar and Jamnagar – saw a tardy pace and low turnout on Sunday.
As per the official website of the Gujarat State Election Commission (SEC), the six municipal corporations reported an average 43% voting. State Election Commissioner Sanjay Prasad said that polling has finished peacefully without any major untoward incident.
Ahmedabad saw the lowest voters' turnout at 39.54% while Jamnagar witnessed the highest turnout of 52.49%. Rajkot, Bhavnagar, Vadodara and Surat, Jamnagar registers highest turnout, Ahmedabad lowest witnessed 47.27%, 46.67%, 45.48% and 45.09% voting respectively.